"Come Walk With Me… far afield and close to home, down local streets and around the globe"
— Susan Alder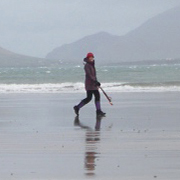 Snapshot of Susan
"I've lived in far-flung countries around the world, always seeking to find my niche in each local culture, and, with curiosity, finding the differences. Entering into the ebb and flow of life far from home, it's wonderful to discover that even routine tasks can become fascinating exotic traveller's tales.

I explore on foot to take in the vibrancy and clamour of cities and towns and the places beyond, where upon turning a bend,

read more. . .
. . .
the tranquility of the way ahead will often stop me in my tracks.

As the seasons unfurl, wild and mild, come walk with me uphill and down dale, around the corner and across the globe.

Whether it is shopping in a traditional middle-eastern souq or at the market in a remote corner of the Democratic Republic of Congo, viewing the pristine splendour of fjords at the top and bottom of the world or strolling ancient ruins north and south, together we will experience the unexpected delight of capturing a moment in time and place."
— Susan