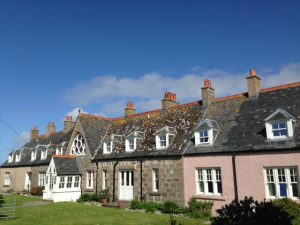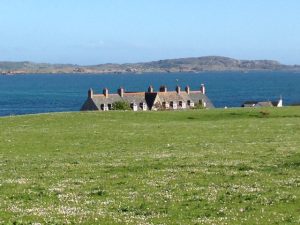 Rooms with a View: Quaint dormer windows, a slated roof and situated just across the water from the quarry on Mull where the granite foundation stones for the house were hewn
After a prolonged stretch of stunningly gorgeous weather, it's a damp and blustery afternoon and I am making the most of it, sitting snugly by the window with a steaming mug of tea beside me, the sea frothing and splashing in front of me and above me, the huge wide-open sky that crowns every waking moment in this faraway part of the world.
I have two days off (and only two weeks to go until I leave) so I am having a mini-holiday close to home, in an effort to savour and enjoy every remaining available moment on this extraordinary island – The Isle of Iona.
So I walked down the street, past the neighbouring six houses to the end of my street and I checked into a beautiful Edwardian retreat house for the night.
Bishop's House is located right on the water's edge with sweeping views across the Sound of Iona towards the Isle of Mull and beyond.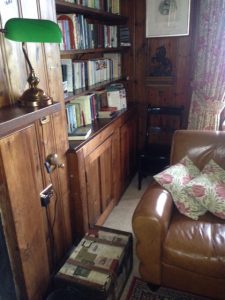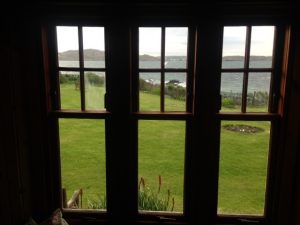 Afternoon Delight: Cocooned among books, wood, leather and chintz with views across the garden to the sea beyond
People journey to come here from all around the world – in groups or alone – generally for several days to a week, to fill their days quietly; to sit a while, to walk; to eat wholesomely, to live simply but above all, to rest and to find a sense of peace.
I discovered on the spur of the moment that there was just one room free for one night so my retreat house experience had to be condensed into 24 hours!
Never-the-less, I was welcomed warmly and attentively with offers of extra blankets and a hot water bottle, ear plugs; freshly baked afternoon tea treats, quiet space in the library, company in the lounge, dinner together later that night, lavender oil for a long hot bath.
The afternoon suddenly stretched luxuriously in front of me and finding a chair by the window, I settled in to watch the weather sweep by.
A cluster of seagulls hovered, then caught the breeze then glided and swooped; making the most of the gusts and eddies, up and down draughts – "Blowing in the Wind" reminding me of my own time on and around the Isle of Iona.
Later, dinner is hearty and delicious and eventually, after reluctantly drawing the curtains on a landscape that exudes both vigour and tranquillity, my day of retreat concludes gently, with a deep and restful sleep.