Photo: The gorgeous Henry Clarke stained glass window, The Coronation of Mary as Queen of Heaven, originally installed in 1925 at the Notre Dame Chapel, is now on permanent display at Kelvingrove House, Glasgow.
Brisbane, Australia
I am packing my bags and preparing to leave the sun-drenched golden beaches of my home in tropical Queensland, to embark on a new adventure where I will be working on a cold and windswept Scottish island. This change of pace (and temperature) is also a line in the sandstone, of what has been a significant past, and is a clarion call to herald a new beginning, where the boundaries seem few, and the possibilities are many.
I am taking a three-month break from my normal life and fulfilling a secret dream – I am going to live and work in and around an abbey and take my own journey of pilgrimage.
In a nutshell, I am running away and pretending to be a nun!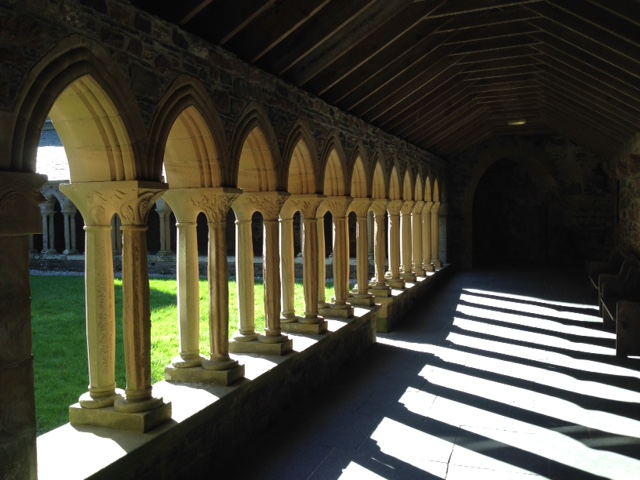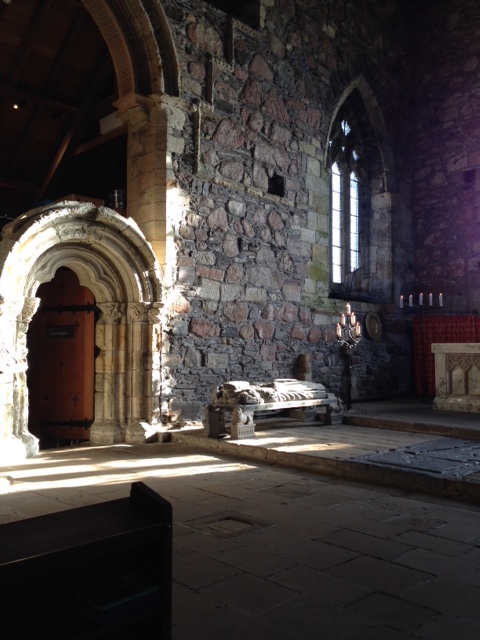 Photos: The ordered beauty of the Iona Abbey cloisters and the chancel.
During my primary school years, I was obsessed with a series of 38 books called The Abbey Girls (by Elsie J. Oxenham) that were written between 1920 and 1959. I scoured second hand bookshops and libraries to find as many as I could, and I read the copies I found over and over again. I still treasure those books.
The stories were about the lives of three girls and their friends, who were young and strong and brave, whose options seemed limitless, and who lived right next door to an ancient ruined abbey deep in the English countryside. I not only wanted to be like Jen and Joy when I was older, I wanted to be them. These books were my childhood happy place of refuge.
The peace and tranquillity of their abbey also captivated me, and in occasional times of difficulty over the years, I yearned to find such a place and wondered if something like that existed.
Recently, quite by accident I discovered the Iona Abbey website and found that not only could I visit, I could also apply to live and work there for two to six months throughout the season.
The timing was perfect, and with little thought about the practicalities of living a Benedictine influenced communal lifestyle, I applied.   And not long after, was surprised to receive a letter of placement offer, that without hesitation, I accepted by return email.