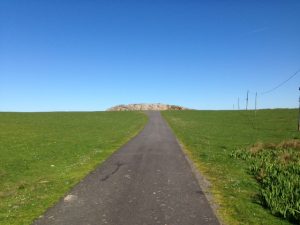 Cycling Perfection – the flat open road looking towards Fionnphort
A hallmark of my time in the Hebrides has been the settled calm weather that is just perfect for cycling. So making the most of it, I borrow a bicycle, jump on the ferry and head over to Fionnphort (Fin-a-fit). The roads on the Isle of Mull are mainly sealed tarmac, easy grades and single lane and on a weekday afternoon, there aren't too many vehicles around.
I turn off the main road and head towards the tidal Isle of Erraid that can be accessed on foot at low tide.
There's no one on the road, the fields are empty and with the wind in my hair, the sense of freedom and wide-open space are delicious.
The road ends at Fidden and a beautifully located wild camping ground right on the water's edge.
After finding the woodpile, where I was told to leave the bike, I splash across the seabed, through a few remaining pools of water, and begin to explore this tiny island.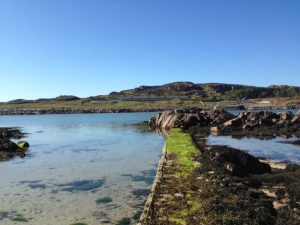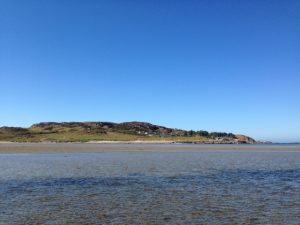 Erraid ahead and the causeway at low tide
Robert Louis Stevenson spent time on Erraid as his father, an engineer, was involved in the construction of nearby lighthouses. Stevenson later featured the island in various tales he wrote. It was the location in his novel Kidnapped where the protagonist, David Balfour, was shipwrecked.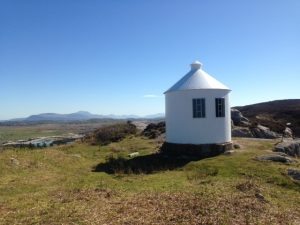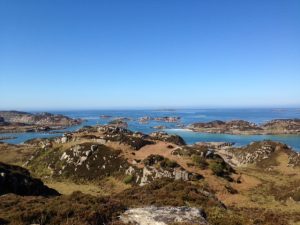 The disused observatory and the view north west
Climbing to the highest point on the island, I can see why a ship could be wrecked here. On another day, with legendary gale force winds howling through, many islands big and small dotted about and submerged rocks scattered everywhere, these waters would be treacherous in a storm.
It is dead calm today and the water sparkles and glistens in the clear bright sunshine. Apart from the stunning sea views, there isn't a lot to see apart from a row of former lighthouse keepers' cottages that have been home to a small group of people belonging to the Findhorn Foundation for the past 30 years, and assorted small farm buildings.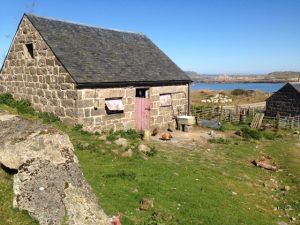 Not a lot has changed on Erraid since R.L. Stevenson was a lad with chickens free-ranging at the front door
The island does not take long to explore and with the tide about to turn, I scamper back across the channel, pick up the bike, and as I hurtle back towards Fionnphort, down a hill and in the middle of the road, I am once again struck by the uncomplicated spaciousness of life on these faraway islands on top of the world; and how much I love it all.