Photo: Life on the water is part of life around the Hebrides and Oban is the place to catch a ferry to many of the Islands.
Glasgow, Scotland
I feel a bit like Queen Boadicea cutting a swath through the pedestrian traffic, suitcases trailing, and clattering along the busy city pavements to the railway station.
Regrettably, I am not travelling light. As I huff and puff along, reorganising the load with increasing regularity, I think that Baden-Powell (and his Be Prepared mantra) has a lot to answer for – along with the fact that once I reach the island, there will be little opportunity to get anything I may have forgotten.
With relief I get onto the train and once my bags are stuffed and stowed around the carriage, I settle in by the window, determined not to miss a second of this rail journey that is said to be among the most beautiful in the world.
Glasgow is quickly left behind and before long there are lochs, glens and snow-covered mountains at every turn. It's Scotland in all her glory. It is a spare and lonely land up here and at this time of year (March) there is water, fed by melting snow, gushing down every slope and gully. It's hard to imagine there could ever be a drought.
Ruined castles come into view here and there and I am remember that this is Brave Heart country and between the Picts, the Scots and the Vikings, some pretty fierce and passionate territorial battles have been staged around these parts.
It's so peaceful now that it is hard to imagine all that bloodshed and 2.5 hours into the journey, the quaint little fishing port of Oban comes into view. Old stone houses and buildings curve around the sea front and it reminds me so much of Bergen, Norway.
On arrival, even though it's fresh and damp, I decide to wrangle the bags a bit longer and continue past the taxis, to explore a little on my way to the B&B at the far end of The Esplanade.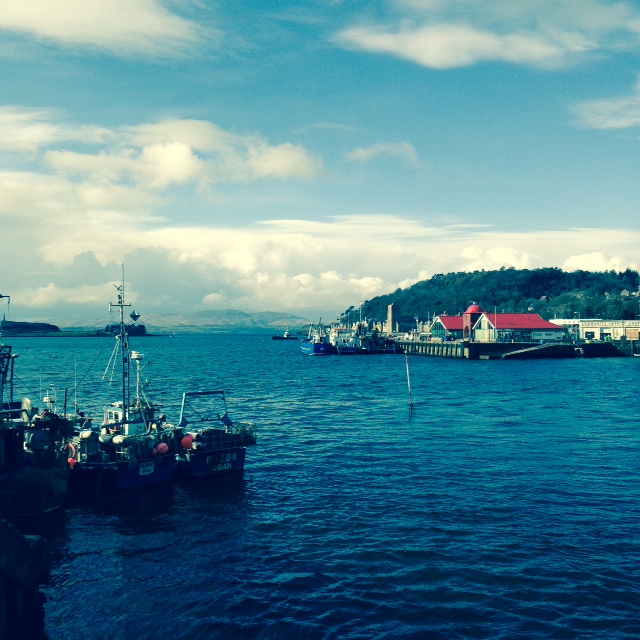 Photo: The view from the esplanade at Oban.